Discover more from Starscape Guild ☆ Digital
🌌 A guild collective and a digital development studio 🌠 podcasts & blogs // websites, games & web3 apps 🌃
a guild, a studio, a sangha, a vision
In this post we will articulate the Guild's goals, the Studio's goals, the idea of online Sanghas, and the vision of the future of Starscape. Check out the story behind Starscape and of Lavitz's ambitions with the brand on his personal Substack.
Embodying the spirit of the Age of Aquarius,
Starscape
is part digital development studio and part guild of free/love-thinking beings collected under a banner to better the galaxy through cosmic conscious creation and collaboration.
Guild is collectively supporting each member's quests via a collaborative in-network and connective out-networks, providing space for expressive exposition, and championing network spirituality.
Digital is encouraging the empowerment and expansion of humanity, helping small businesses survive and thrive, and developing a more free and fun interweb.
Starscape's north stars
☆ Open-inquiry - Investigating the rich tapestry of reality and being, challenging beliefs to illuminate paths toward collective flourishing, identifying opportunity for fertile solutions.
☆ Co-creation - Navigating the nebulous fog of creative inspiration, collaboratively expressing our souls, manifesting & iterating systems for harmonious cooperation.
☆ Love - Pursuing the electromagnetism of shared affinity, innervating unitive spirit, nourishing whealthy environments, courageously embracing with empathy, faithfully pursuing resonance with beauty and truth.
Visit the Starscape.Digital website
A Guild
Starscape Guild is a collective of artists, writers, musicians, developers... passionate thinkers and creators of all kinds who are interested in exploring the depths of our own minds and the universe at large. We play in the intersection of technology and spirituality, desiring the ethical empowerment and expansion of humanity.
This web space showcases guild creators & their ongoing projects, with Starscape published projects displayed on the Digital studio page.
We are ever-looking for new members to join our sangha, for support and financial patronage of any sort, and for other guilds to collude with!
The Discord server is for curious minds, courageous hearts and lovely souls interested in self & collective development, solarpunk & generative ideas, crypto/financial happenings and mysticism! The primary purpose is to share, learn, encourage & grow. Everyone is encouraged to ask all range of questions, share their personal & project progress, and help guide the community in a positive direction 🌌
We are partially inspired by the idea of a
scenius:
Geniuses lived and drew from a very active flourishing cultural scene, and they were only one of the elements in that scene. All of these people tho are called genius actually sat in the middle of something I call scenius. Just as genius is the creative intelligence of the individual, scenius is the creative intelligence of a community. what I want to see is more attention given to that possibility of creative behavior.

What that means of course is two things: all people are born unequal so everybody has a particular and unique set of gifts and talents, and secondly: that intelligence is generated by communities; by cooperation of some kind. The biggest obstacle to that at the moment is that people have to earn a living.

So I tell people… try to leave yourself in the position where you do the things you want to do with your time, and where you take maximum advantage of whatever your possibilities are. I suppose the obstacle is, of course, most people aren't in the position to do that. So, I want to do anything to work to a future where everybody is in a position to do that.

Brian Eno, December 2015
A Studio
Starscape Digital is a digital development studio that is part of the Starscape Guild. We are a small team of developers and designers who are passionate about supporting small businesses & individuals and creating fun yet purposeful games, apps and products. We love Y2K web culture and alternative aesthetics, aiming to proliferate unique creative expression thereby empowering individuality. We admire virtuous game design that respects the player's time and intelligence, aiming to spotlight good web3 games, seed ideas for others and create our own.
Digital is encouraging the empowerment and expansion of humanity, helping small businesses survive and thrive, and developing a more free and fun interweb.
We also write about lesser-known projects and activities in the crypto/web3 space.
This web space showcases Starscape published projects, with guild creators & their ongoing projects displayed on the Guild page.
We are ever-looking for new developers, designers and writers to join our team, for support and financial patronage of any sort, and for other guilds to collude with!
Mottos
Helping small businesses survive and thrive. Keeping the stars alight.

Developing a more free and fun interweb. Lighting a pathway to the stars.
Goals
Empowering small businesses & individuals

Accelerating ethical technology development

Spotlighting and creating fun yet purposeful games, apps and products

Funmaxxing digital design and experience

Journalizing lesser-known projects and activities in the decentralized world / web3 space

we should all contribute to the archiving of news & knowledge!
A Sangha
We're more than just artistic and technical creators; we support each other's personal growth - mental, physical and spiritual wellness and mastery - and we drive toward unitive oneness.
The concept of a Sangha, originally born out of Buddhist philosophy, refers to a community that practices mindfulness, cultivates understanding and intentionally improves the world (basically). I resonated with this quote when I first read it after having a so-called spiritual awakening, realizing I wasn't the only one, and that in this particular era of humanity with the internet that the next golden age is being catalyzed by countless collective efforts. We're all both students and teachers; we directly and indirectly learn from and teach others. We each see the world through a fragmented perspective, so intentionally sharing with each other illuminates unknowns, facilitates growth, raises consciousness and will save the world.
I randomly felt compelled to prompt ChatGPT to explain this idea of online sanghas and how they might change the world, and published it here:
Moreover, they serve as catalysts for positive change in the face of global challenges. Take, for instance, an online Sangha focused on environmental sustainability. This community can serve as a platform to spread awareness, share innovative solutions, mobilize resources, and influence policy changes.
((hey, kinda like Cardano4Climate and DreamDAO to name a couple!))
The rise of online Sanghas signifies a significant evolution in how we perceive and experience community. They are not just communities bound by shared interests, but platforms for collective transformation. As we continue to navigate the complexities of our modern world, the role of these digital communities will only become more pivotal in fostering global understanding, empathy, and collective action.
I have found and joined several online communities who promote this and, like with all things I find valuable, I wish to propagate and scale these ideas & systems; starting with elevating my friend groups, articulating my visions online, and creating apps & games to connect & inspire.
All of this is made possible by the internet, which was created through open collaboration across generations and now itself accelerates humanity's development through instant global interconnectivity. Already, the extraordinary has become ordinary. In time, more purposeful online communities will form, and the extraordinary notion of decentralized nation-states will become ordinary.
A Vision
While mainstream news outlets may propagandize doom and gloom, and very real hardship ails most people in the world, I see a lot of good things happening. Slowly, but surely, humanity is digging itself out of the mess of its predecessors. Starscape will be a beacon of light in the darkness.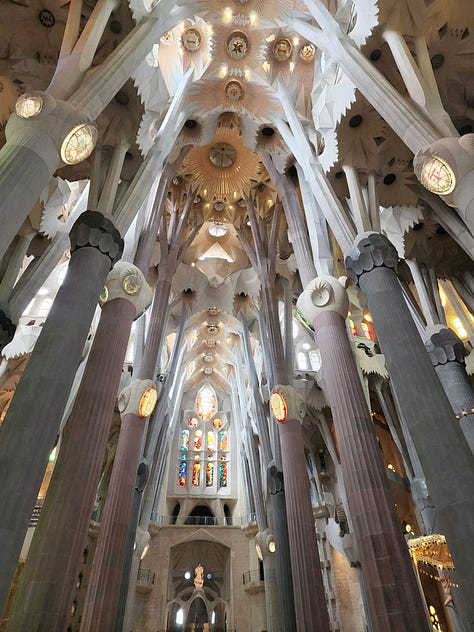 Why was immense time and effort spent building cathedrals? Why did humans dedicate years chiseling the likeness of plants, animals and people into stone? There was some draw to making the inanimate animate, putting soul into the soulless, etching their souls into material reality. They transcended themselves in both ego and lifespan, living in service of something else for it to last well beyond themselves. The best things aren't made quickly or cheaply, nor made for purely selfish reasons. The best things are made in search and service of Beauty, Truth, Divinity.
Starscape is a metaphorical cathedral: a transcendental work of passion and a gathering place for transcendence. Neither religious nor cultic, but spiritual.
However Starscape evolves will be as exactly as it should within my the divine plan.
In æther,
Bruce Dean ∞ Lavitz Star/love